About Good Host Plants
Our Mission
Our mission is to promote biodiversity by growing straight species native plants, indigenous to Philadelphia and the Mid-Atlantic region, using open-pollinated, local-ecotype plants whenever possible to promote genetic variability. We do not sell native plant cultivars (or nativars) – plants with traits isolated due to artificial selection, since this process greatly limits or excludes genetic diversity and adaptability.
We use peat-free, organic potting mix and organic fertilizers. We do not use insecticides, herbicides, or fungicides. We don't use hormones or growth inhibitors/regulators on our plants. If you come to our nursery, our flowering perennials won't be frozen in a perpetual state of bloom. You might see signs of insect foraging on the leaves, and that means they're providing a function in the ecosystem… and that's a good thing, since that's the point of carrying the species we grow.
Our Story
Our story began in 2010 with the opening of The Pollywog Pond, our in-home daycare and preschool. Located next to Carpenter's Woods in West Mount Airy, Philadelphia, we sought to convert our small space into an extension of the habitat found across the street. Over 100 species of native vines, grasses, wildflowers, shrubs, and trees later, our grounds have become an outdoor classroom, complete with a native plant green roof and wildlife pond.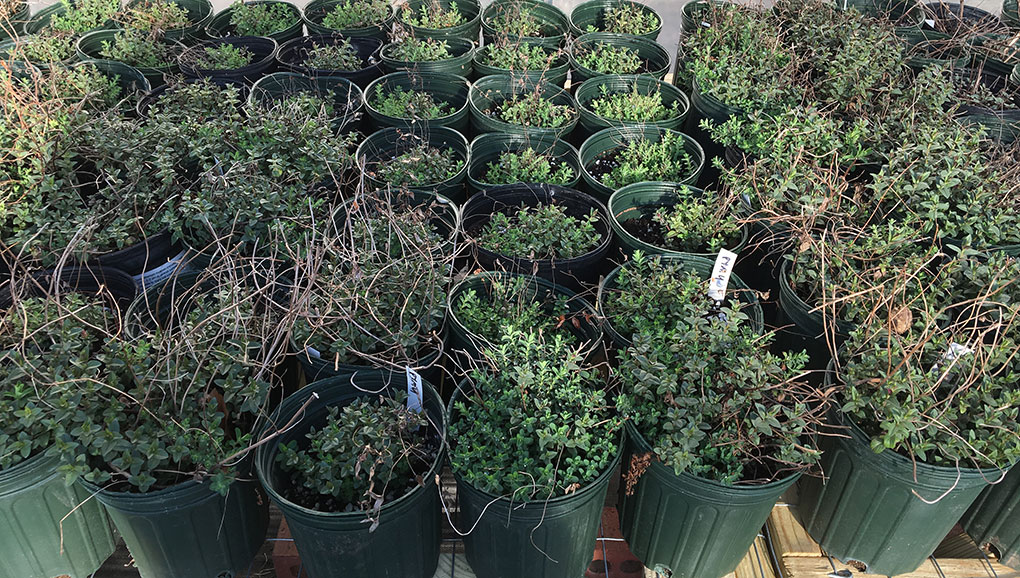 A good host plant is one that supplies food resources and habitat for certain beneficial insects or other fauna. A good host receives guests at home.
Over the years, we've sourced the majority of our plants on our property from our partner, ArcheWild, located in Bucks County, PA. We've also purchased a good number of plants through native plant sales and a handful of responsible retailers located outside of Philadelphia, but the plant sales were once or twice a year, and the good nurseries were an hour drive outside of the city. Additionally, straight species native plants were rarely available at nearby garden centers, as the species available were cultivars, grown and shipped from regions outside of the mid-Atlantic.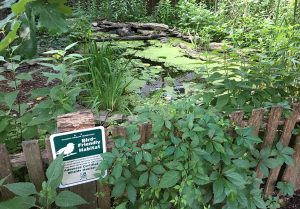 To promote awareness of native plants, we display signage from certifications received over the years, such as the National Wildlife Foundation's Certified Wildlife Habitat, Penn State's Pollinator-Friendly Garden certification, Audubon Pennsylvania's Bird Habitat Recognition program, Monarch Watch's Monarch Waystation program, and others, which led to interest from neighbors and passers-by. Soon, I was doing invasive removal, landscape design, and installation of pocket meadows and other native plantings for properties in the neighborhood, but sourcing plant material was always a difficult hurdle. Landscape plugs were readily available by the tray, but creating pocket meadows required a diverse mix on a smaller scale, and acquiring a good mix of plugs, quarts, and gallons often took more time than designing and installation combined. As more friends and neighbors became interested, I needed a palette of plants available at all times, so it was time to bring a native plant nursery to Philadelphia.
2014 and 2015 was dedicated to learning the intricacies of running a small-scale nursery, from construction of a hoop house to studying irrigation and everything in between. Over the past winter, we've expanded to 3 hoop houses for 2017 and will have nursery hours at our location in time for spring planting.
About Me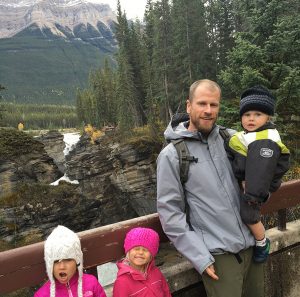 Native plants are my passion, especially their relationship with insects and their role in healthy ecosystems. I enjoy promoting land stewardship, whether it be in city parks where volunteer efforts are desperately needed, or by helping homeowners improve biodiversity and create habitat in their backyards.
There are many things I'd like to change in the world but feel powerless to do so. By planting native plants in your garden or volunteering a few hours to remove invasive species from a natural area or park, you can make an immediate impact and you can bring about real change.
I hold a B.S. degree in Biology, but my career for the past 17 years has been in web development and multimedia. I have no formal background in botany or landscape design, but I'm lucky to have an extensive network of folks who do. My yard, the woods outside my front door, and the region's many natural areas and nature preserves are my classrooms. To learn about native plants and their role in the landscape, there are many resources I can recommend, but none more valuable than a camera and experimenting to see what plants play well with others in different conditions. I constantly take photos of naturally-occurring and experimental plant communities throughout the year. Organize these by date, and after a few years you'll be able to answer your own questions about bloom time, plant height, light and soil requirements, insect visitors, wildlife using a plant as a food source, and so much more. At one time or another, I've had experience planting and documenting the success every plant species I've selected, and by using proper planting techniques, site preparation, initial irrigation, and selecting the right plant for your conditions, you can do the same.
Some of the training programs I've completed and organizations I'm involved with: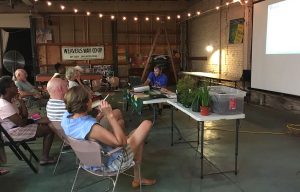 If you're interested in learning more about the benefits of planting native, follow Good Host Plants on social media, or email me and I'd be happy to answer your questions. Catch one of my workshops. I've given presentations at Weaver's Way Co-op and Henry Got Crops CSA, with more planned for 2017.
Save
Save